Collection: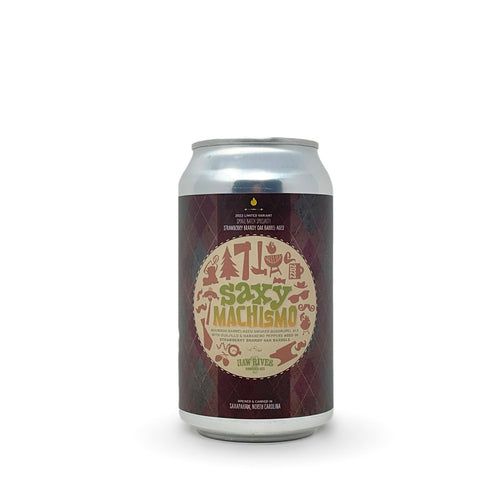 Collection:
Strawberry Brandy Barrel-Aged Saxy Machismo
Strawberry Brandy Barrel-Aged Saxy Machismo
Regular price

Sale price

$12.00
After a three-year hiatus, Saxy is back, and we couldn't be more excited about its return!
If you haven't had the pleasure of enjoying this one, you're in for a real treat. Saxy Machismo is our big, bold Trappist-style quadrupel brewed with a touch of cherrywood smoked malt and dark Belgian candi syrup, aged in Heaven Hill bourbon barrels for twelve months on a handful of dried guajillo and fresh-roasted habanero peppers. This special small-batch variant was aged in a pair of fresh-emptied strawberry brandy oak barrels (instead of the bourbon barrels used in the main production batch), lending an intense jammy complexity that plays beautifully with the final version of this small batch specialty.
And don't forget to check out this year's other small batch single-barrel variant, our Raspberry Brandy Barrel Saxy Machismo, as well as our main 2022 Saxy Machismo release, both available in limited quantities for just a short time!
Ingredients: 2-row Carolina Gold pilsner malt, Cherrywood-Smoked Malt, Aromatic Malt, CaraMunich Malt, Chocolate Malt, Dextrose, Dark Candi Syrup, Hops, Guajillo & Habanero Peppers
Yeast: House Trappist-style yeast
SRM: 14
IBU: 32
ABV: 12.2%
Availability: Annual release